How USC Consulting Group Enhances Your Internal Improvement Team
Organizations of all sizes now leverage continuous improvement programs to make the most of their workflows. Initiatives centered on revolutionary shop floor methodologies, such as lean and Six Sigma, are everywhere, as firms look to optimize their resources and generate growth without investing in expensive, time-consuming capital improvements.
Most of these efforts depend upon internal improvement teams, which use the latest technology and operational expertise to pinpoint and eliminate process-based roadblocks that inhibit production. But not all of these internal groups see success. Many businesses don't invest enough in their improvement teams and find themselves grappling with constant production issues as a result. The experts at USC Consulting Group regularly assist enterprises in this unfortunate position, enhancing their internal improvement teams and setting the table for success.
Upon entering an operation that lacks strong performance from its improvement team, we normally encounter at least one of three common scenarios:
Overwhelming work demands: Internal improvement groups simply have too many tasks to complete and cannot get out from underneath their workloads, preventing them from making meaningful improvements or developing long-term strategic plans.
Flawed operational objectives: Internal improvement teams are focusing on the wrong goals.
Reactive workflows: Instead of implementing improvements that reduce the likelihood of serious production holdups, internal improvement teams spend the bulk of their time responding to surface-level incidents rather than their respective root causes.
How do our improvement specialists go about tackling these issues? Here are some of the strategies we regularly employ:
Bolstering communication channels
A significant number of businesses operate a network of facilities spread across perhaps hundreds of miles. In most cases, these sites maintain disparate internal improvement teams. This regional strategy works, so long as these groups communicate with one another and attempt to collaboratively address production problems across the entire organization. Unfortunately, many businesses fail to foster such connections and, in doing so, isolate their internal improvement teams. In response, these groups dive into the minutiae of the everyday workflows they encounter and forgo more wide-reaching, standardized initiatives.
We address this problem by helping companies develop lines of communication that allow internal improvement teams across numerous sites to unite under sets of common goals and facilitate organization-wide progress.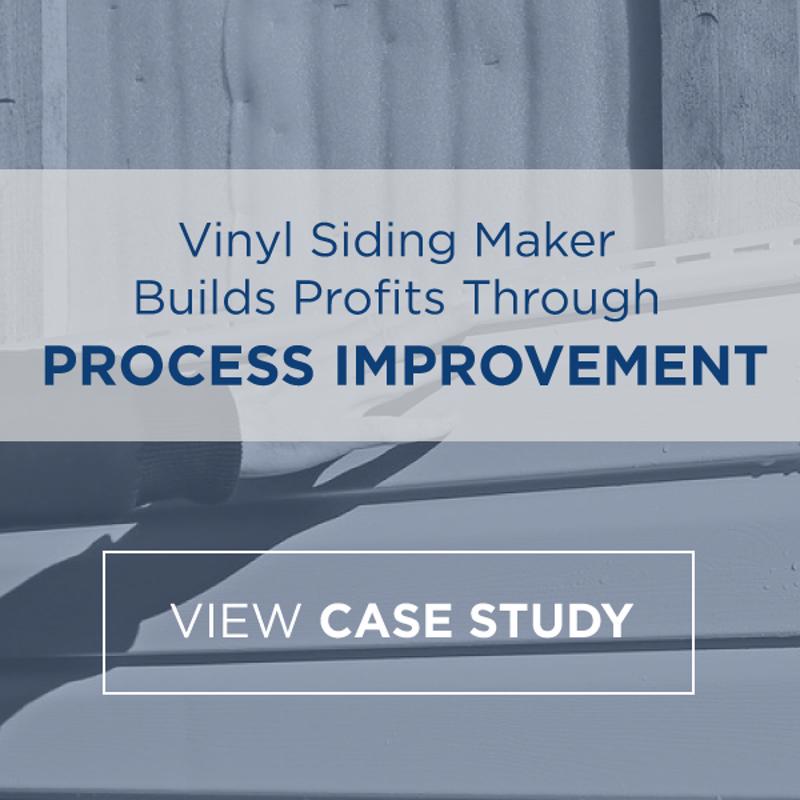 Trading observation for actionable data
It is easy for internal improvements teams to focus on readily observable issues and act reactively. After all, skilled operational stakeholders can easily address problems as they unfold before their eyes during daily walkthroughs. However, in many cases, these difficulties are symptoms of larger issues that a tour of the shop floor won't necessarily reveal. In such cases, internal improvement teams must collect and analyze quantifiable production data, then use this information to both combat large-scale obstacles and formulate forward-looking goals.
Our experts facilitate this kind of transition by helping organizations adopt key performance indicators that move the focus off reactive activities – which, ideally, maintenance teams should tackle – and onto overarching exercises centered on macro improvements that drive growth and revenue.
Implementing auditing, documentation and training programs
Administrative tasks such as process auditing, document creation and training development are the backbone of effective internal improvement programs. These activities ensure continuity across the enterprise and the adoption of best practices. Many businesses are in good shape when it comes to training. For instance, firms in the manufacturing space have long facilitated instructional programs designed to increase efficiency and productivity. According to research from the Manufacturing Institute, on average, industrial businesses spend about $1,000 per year per employee on skills training. One in ten invests more than $5,000 per employee annually.
However, when it comes to auditing and documentation, businesses tend to fall behind. Additionally, while companies may offer consistent training, such programs are not always aligned with effective best practices, meaning workers end up learning how to navigate substandard processes. Our improvement specialists work with internal improvement teams to build out effective shop floor best practices and correlate those to easy-to-deploy training efforts. On top of this, we then assist these team in developing auditing and documentation workflows that validate and evolve more effective processes.
Using these methodologies, the experts at USCCG enhance internal improvement teams and empower them to make strategic change throughout the organization. This, in turn, facilitates flexibility, which, in the lean area, often has a more tangible impact than capital investment.
Is your organization interested in bolstering its internal improvement teams? Contact us today to discuss your project and learn more about our portfolio and how USCCG can provide horsepower to your internal efforts. Our expertise spans numerous industries, from food and beverage to mining to transportation and logistics, and focuses on all areas across the supply chain.
Keep reading more insight from our subject matter experts by subscribing to our blog in the upper right side of this page.