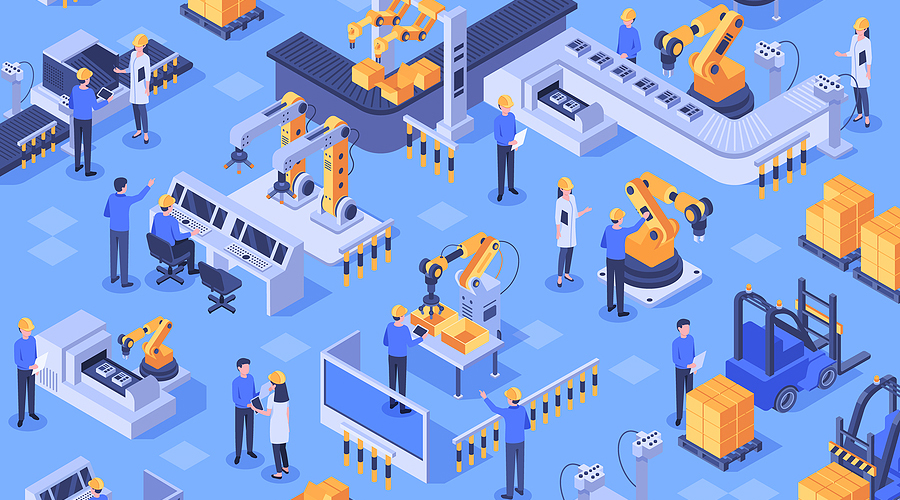 5 Ways Automation is Changing Manufacturing Today
The trend towards automation is progressing all the time. With the advent of COVID-19 creating employment concerns amid a changing workforce, the role of automation in manufacturing has taken on new meaning.
Now, robotics looks to automate processes for the increased safety and productivity of the modern factory. There are many ways that automation trends are reshaping the industry. Here, we will look at a list of these trends and the ways they are altering global trade.
From faster processes to 3D printing innovations, automation in manufacturing looks much different than it has in past decades. Here's what you should know.
1. Making Processes Faster and More Efficient
One report found that automation at a macroeconomic scale could increase global manufacturing GDP between 0.8% and 1.4% per year. While those numbers might seem small, the overall impact in economic growth is substantial.
Paired with increased productivity, automation offers the following benefits:
Labor cost savings
Improved safety
Enhanced quality
Overall efficiency
Currently, substantial losses in production time and energy occur in fighting human error and clunky procedures. With automated systems, efficiency can be integrated amidst better processes for fighting energy drains like friction. This translates to potentially millions of dollars in increased revenues for manufacturers that adopt automation technology.
2. Collecting Data Through Digital Twinning
Improving manufacturing processes is possible through the trend of digital twinning changing the manufacturing landscape. Digital twinning involves virtually modeling the manufacturing process alongside the real-world system. Doing so allows companies to gather valuable data and models for simulation and experimentation.
With 50% of large manufacturers set to utilize this tech by 2021, digital twinning represents the future of manufacturing. And for good reason. Up to 30% of improvements in product quality and product cycle time are possible thanks to digital twinning, allowing companies to pair data with experimentation for revenue-boosting results.
3. Increasing Safety Through Robotics
The emergence of COVID-19 changed the way businesses manage a workspace. This is true as well for factory floors where workers have to adopt sanitation and social distancing measures. Robotics allows for the safe implementation of these policies without increased human risk.
A series of roles are now increasingly being filled by robots to allow for greater safety procedures. These include:
Assembly Line — Working side-by-side with humans are automated systems known as co-bots. On the assembly line, these co-bots are enhancing productivity while making social distancing increasingly possible.
Sanitation — With COVID-19 concerns, more janitorial robots are being integrated to help sanitize workspaces. These robots go beyond the average Roomba, ensuring the cleanliness of shared spaces for employee safety.
Heavy Lifting — The constant movement and shuffling of parts and packaging in the manufacturing industry create risks for human workers. Robots can reduce that risk while efficiently moving and hauling heavy objects across a factory.
With sanitation and dangerous work now being filled by robots, factory workers can enjoy a greater level of safety. This not only increases productivity for manufacturers but reduces liability risks and costs as well.
4. Focusing on Logistics for Better Processes
Artificial intelligence. The term might invoke fear in movie-going circles, but the integration of AI in manufacturing to enhance the logistics of every process is reshaping the industry.
AI relies on the accumulation of manufacturing data to provide streamlined logistics workflow. This means sensors, digital twinning, analytics, and more to truly understand and predict factory success. With each new data set, an AI can better learn a system, inform technicians of when maintenance is needed, and build better models for an effective process.
With all the implications for manufacturing improvement, AI is one trend of industrial robotics sure to last long into the future.
5. Changing the Manufacturing Process Through 3D Printing
Automation of manufacturing is changing through the increasing use of additive processes, such as 3D printing. This automation trend has a huge impact on manufacturing of all types of products, with a wide range of materials including sustainable and plant-based options possible.
3D printing uses a digital blueprint to then produce a product from the bottom up, bit-by-bit. By building in this way, the efficiency and durability of parts can be maximized even when using alternative materials. This process means better products at potentially cheaper production costs as the technology improves. The ability for sustainable materials to be substituted in production also has beneficial implications for the environment.
The Changing Landscape of Manufacturing
As the world integrates new automation technology, manufacturers look to reap the benefits. From more efficient practices to better building techniques, manufacturing in the modern world has made substantial headway towards safety and sustainability. These technological trends enhance the safety and productivity of any manufacturing workforce, but the question has to be asked—how will automation affect displaced workers?
Currently, humans and robotics are working side-by-side to deliver better solutions. However, only time will tell how workers adapt to increased automation in the new landscape of manufacturing technologies.
This article is written by guest author Beau Peters. View more of Beau's articles here.